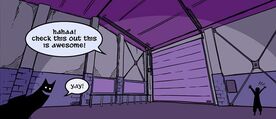 Katerina Donlan owns a big storage room which once belonged to her mother, Anja Donlan it was passed on to her on Chapter 18, Page 4. Here, she makes her different machines and performs her experiments.
Contents of the Storage Room
Experiments and machines
List of Appearances
Gallery
Ad blocker interference detected!
Wikia is a free-to-use site that makes money from advertising. We have a modified experience for viewers using ad blockers

Wikia is not accessible if you've made further modifications. Remove the custom ad blocker rule(s) and the page will load as expected.