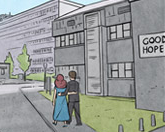 Good Hope
is the hospital where
Antimony
was born, and where she lived with
her mother
afterwards, while her mother was bed-ridden.
Antimony's father was a surgeon there for some time, but by the time of Chapter 3: Reynardine he had quit.
Good Hope was where Annie first met and began to help the Guides. Good Hope has a higher-than-usual number of guides, but other than that is a regular hospital.
Known Patients and Personel
In Real Life
There is, in fact, at least one Good Hope hospital in Sutton Coldfield, Birmingham.[1] Esteemed author Tom Siddell had his appendix out in Good Hope hospital.[2]
List of Appearances
Ad blocker interference detected!
Wikia is a free-to-use site that makes money from advertising. We have a modified experience for viewers using ad blockers

Wikia is not accessible if you've made further modifications. Remove the custom ad blocker rule(s) and the page will load as expected.